Provided for review
I love when two great brands team up to create something extra special. Well, in this case it was Rachel from
Rogue Lacquer
creating two exclusives for the
Girly Bits Cosmetics
shop. I received these while I was at Indie Expo Canada 2018 and have been waiting to share since June! They are both available now from the
Girly Bits shop
and one of these is Limited Edition due to an ingredient being discontinued so don't wait if you like.
My personal favorite of the duo (though they are both beautiful) is
Rogue Lacquer Girly Bits
, a purple base with purple to turquoise multi-chrome shift packed with purple blue green multi-chrome flakes, colour-shifting flakes holo and micro holo glitters. This polish has a limited availability because one of the ingredients is no longer available from the supplier.
I am wearing two coats plus top coat. This baby is smooooth and sparkly. It's really unique in my collection too. I absolutely love the combination of multi-chrome and flakes which are itsy bitsy teeny tiny adorable. I even made a GIF (below) to show off the shift - how kewl am I?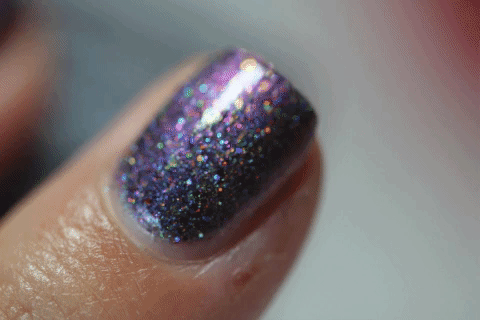 The second Girly Bits exclusive is
Rogue Lacquer Puns of Steel
, a dove gray crelly with soft linear holo and rainbow multi chrome flakes. This one is
not
Limited Edition so it might be restocked if there is a lot of interest.
Also, two coats plus top coat. A super smooth formula with a ton of flakes! I love the base colour of this - it leans a lot more baby blue on me than dove gray. The flakes are so plentiful in this one too but not at all chunky or overdone. Rogue Lacquer is a flake master - I feel like Rachel kind of invented the flake crelly.
Rogue Lacquer links: